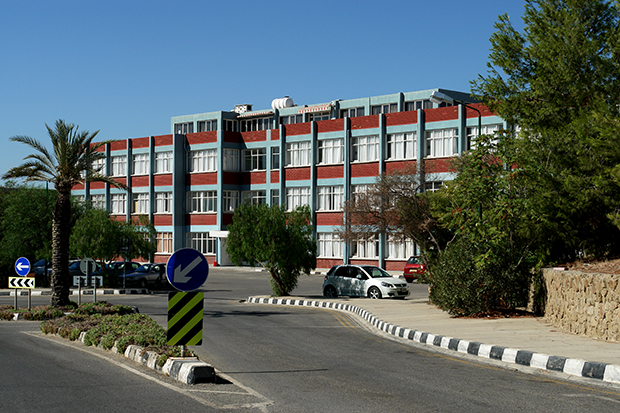 While sharing the basic principles of education and science, I would also like to mention about the opportunities as a whole provided by both; the Faculty of Arts and Sciences and the Near East University.
It is possible to define science as a set of intellectual and practical work- experiments and observations- which overall covers; the systematic examination of the structure and behaviour of the physical and natural environment. Comprising appropriate activities parallel to this definition, the Faculty of Arts and Sciences promotes scientific outcomes which are expressed through English-an international language- and through our mother-tongue, Turkish.
The Faculty of Arts and Sciences was founded within the same year that the University was founded. The Faculty started off with the Department of English Language and Literature. Gradually, new departments were added: In the year 1994, the Department of Turkish Language and Literature was added to the faculty, then, the Department of Psychology. As a result of opening the Department of Mathematics, which was opened in 2005-2006, and the Department of Translation and Interpretation, which was opened in 2009-2010, the Faculty has reached to five departments in number. The academic staff of the Faculty has continuously been strengthened with new and qualified members. Besides executing education and training programs meticulously, the Faculty of Arts and Sciences has not neglected the integration with other faculties of the university. With this aim and the demands of the students, the University provides efficient numbers of elective courses related to foreign language and humanities.
Another aim of the Faculty is to maximize the students' benefits from University's facilities; regarding the infrastructure and superstructure. For example, the regular and efficient use of the NEU Grand Library- which is an indispensable part of education and research- is no doubt a necessity to reach a higher level of education, as well as a necessity for the development in the research dimension.
Computers and the internet are essential tools of education. The students and the academic staff are provided with a high level of technologic infrastructure which makes the use of computers and internet easy to reach. As an alternative for personal computers (which may be insufficient to carry out research at some cases) we offer the use of Super Computer, positioned at the Innovation Centre for researchers. This is only one of our aims. In addition to this, we have other ultimate aims, such as; ensuring a healthy life and sustaining human health in general. With the facilities provided by the University, we are able to supply the necessities of a healthy life, whenever needed, to our staff and students, of whom we are literally entrusted in. For the promotion of a healthy life, we provide Health and Wellness Centre, Indoor Olympic Swimming Pool and Psychological Consultancy Centre, which is under the inspection of the Department of Psychology- Faculty of Arts and Sciences. By benefiting from the opportunities mentioned above, it will be easier for students to adapt to the university life. Furthermore, the University holds the students' and employee's health above everything. With its highly competent staff and equipment of latest technology, the Near East University Hospital assures the solution to any kind of health problem.
Each department of the Faculty of Arts and Sciences are opened after a thorough planning phase. The best indication of this can be seen through the functions of the departments. The English Language and Literature Department, which started departmental studies in 1992, aims to train skilful and well qualified individuals and researchers, who have extensive knowledge in English language and literature as well as developing accretion to analyse the depths of global literature, and who can succeed integrating universal and local values of literature and have ability to think critically and independently, and are keen to explore and investigate. Besides training in English language, the graduates are also equipped with another foreign language. By completing a Non- Thesis MA programme of Field Teaching, students with a citizenship of Turkey gain the right to become English teachers. In addition, they are able to join academic staff of universities and become researchers or instructors, or they can work as self-employed translators on written or verbal issues. Furthermore, by using the advantage of the language skills they have acquired, our graduates are also candidates to make considerable progress and rise in their jobs in a variety of areas.
Department of Turkish Language and Literature, which started its departmental studies in the academic year 1994-1995, aims to educate people who are fully competent in speaking and in writing their native language.
Department of Turkish Language and Literature has been carrying out its studies at an extensive field since its date of opening. In accordance with the saying of our great leader Atatürk, "Culture is the basis of the Republic of Turkey", the department mainly aims to bring up; individuals who have internalized their own literature and culture and individuals who can use his/her mother tongue perfectly. By completing a Non- Thesis MA programme of Field Teaching, students graduating from this department have the opportunity to become teachers of Turkish Language and Literature.
Moreover, our graduates have the opportunity to be journalists, copywriters and also work in the fields of TV, radio and in public relations. Besides learning necessary skills on Turkish language, the students of the department have the chance to acquire a second language.
Psychology and Philosophy are the first to come in mind when social sciences are mentioned. It is well known that in the world of today, the sub-branches of Psychology offers service to all parts of social life. The main aim of the Department of Psychology is to bring up qualified individuals with ardent spirits for; hospitals, educational institutions, penitentiaries, industrial institutions, public consultancy centres, and other institutions offering services related to psychological issues.
Psychotherapy, test application, research consultancy, selection of personnel, communication development within businesses, development of measurement tools in education and alike are all included within the services provided by psychologists. Therefore, our graduates are able to work in health institutions, research centres, advertising and public relations, education units of banks and other institutions, research-development units of private sector institutions, psychological consultancy centres, kindergartens, prisons, nursing homes and rehabilitation centres.
Mathematics is not merely an ingenious way of dealing with numbers, nor using the right formula for mathematical calculations. Even though there are many benefits of using software of graphing calculators and computers, this issue should not be exaggerated. Most important of all, the applications mentioned above cannot be regarded as 'mathematics'. If and only if, the individuals who desire to study at the Department of Mathematics realize this fact, then they have the chance to focus on being a mathematician.
In fact, maths refers to many things. Maths refers to observation, analysis and explanation and what is more, it basically refers to critical thinking. At the same time, maths is a process of discovering facts. Well then, how can you be sure about the accuracy of a finding in maths, especially when you believe that you have discovered something new? The only way to understand this is by proving solid evidences. Moreover, there is a necessity to convince others about the finding, as well. In this respect, the main objective of the Department of Mathematics is to assist the candidates, who aim to become mathematicians, in understanding the very essence of maths.
Graduates of the Department of Mathematics can make further progress in this field by carrying out MA and PhD studies, and have an academic career in their native country and/or in overseas countries, as well as having opportunities to carry out postgraduate studies in other fields such as business relations, economy, trading, banking, accountancy, Computer Engineering and computer programming, and so on.
As training in Mathematics brings the graduates to the basic knowledge and skills necessary in the field of computing, graduates can find recruitment opportunities in private and state sectors, where computing skills and knowledge are essentially required. In today's world, mathematicians are much needed in the fields of information technologies, business-trading, social and basic sciences. Graduates can also work as a math teacher in private and state schools in accordance with the terms and conditions specified by the Ministry of Education.
The aim of Department of Translation and Interpretation is improving the language awareness and competence of students in English and Turkish languages; making them proficient and competent by teaching them theories and techniques in translation and interpretation; ensuring that they are deeply knowledgeable about cultures and institutions of both languages, as well as bringing them in experience in practical terms; and, on the one hand, developing their knowledge and translation skills in literature, economy, law, social sciences, international relations, physical sciences and medicine, technical issues, media-communication, and other daily issues, and on the other hand, providing them with basic knowledge and skills about theories and techniques of translation, and of simultaneous translation techniques for conferences. It is also aimed to train students in another foreign language so that they can carry out translation in at least one more language other than English.
Graduates of this department can be employed as; translators and interpreters, literary interpreters, conference interpreters, national and international conference interpreters, English teachers, interpreters for international companies, media interpreters, press and publications interpreters, or can be employed in advertisement areas, tourism, and work related to diplomatic issues. In addition, graduates from the Department of Translation and Interpretation are able to make academic careers in the departments of Translation and Interpretation, English Language and Literature and in the Department of American Culture and Literature.
We do not only aim to improve comfort of living of the faculty students, we also aim to do this for all our University students. Our students may prefer to use one of the accommodation facilities provided by the university. They have the choice of preferring the appropriate accommodation which suits their budget and personal likes. The university provides regular scheduled transport between the dormitories and the city centre; to enable students to visit others and supply basic needs from the city centre. On the other hand, students who choose to accommodate within the city by renting a house or students who live in their own homes, also have the opportunity to use the transport service of the university.
There are sufficient numbers of canteens, cafeterias and dining halls, within the university, to provide every kind of quality food, suitable for a healthy eating.
The basic needs of students and educational instructors such as books, stationary, photocopy and alike, can all be obtained from the sale locations within the University. We are very meticulous about course books and this service is carried out properly at the Book Store, positioned on campus.
As can be clearly seen from the information provided above, the Near East University- Faculty of Arts and Sciences aims for a high quality in education. A conclusion can be drawn that students who chose to study at our faculty will find every opportunity they need and thus, have a splendid education life.
Prof. Dr. Ali Efdal ÖZKUL
Dean of Faculty of Arts and Sciences
Foundation
NEU Faculty of Arts and Sciences started off at the same year which the University was founded. The faculty started off with the Department of English Language and Literature. Later, in 1994, the Department of Turkish Language and Literature and the Department of Psychology were added to the faculty. Then in 2005-2006, the Department of Mathematics and following this, in 2009-2010, the Department of Translation and Interpretation were added. Thus, the faculty has now reached five departments.
Mission and Vision
With the help of highly qualified academic staff, the five departments of the Faculty aim to bring up qualified individuals in their fields and therefore supply the needs of the community. The main goals of the faculty are; to bring up individuals competent in using and interpreting both the Turkish language and the English language by providing language training programs, to train individuals to be authoritative and sound in their fields, to encourage the specialist staff to deal with the psychological problems that a society is likely to face, and to bring up qualified staff who will promote serious studies and thus be a solution to our need of solving mathematical calculations.